构建创意页面wordpress的插件
无意中看到一个插件wordpress的插件
Elementor Page Builder
以下是插件简单的描述,相信这些英文也不难,水平有限也就不翻译了
大伙自己看看就好
It's about time for a live page builder, with no limits of design. A page builder that delivers high-end page designs and advanced capabilities, never before seen on WordPress.

It's time for Elementor Page Builder.

Instant reaction was a key feature we wanted to achieve. And we did. Instant drag & drop page builder, instant live edit, instant page load. The speed of Elementor is not matched by any other page builder, free or paid. This makes the interface fun and easy to work with, as well as reduces the time it takes to design.

Never again work on the backend and guess what the frontend will look like. With Elementor page builder, you edit the page and simultaneously see exactly how it looks like. Elementor features live design & inline editing, so the whole process of writing and designing is done directly on the page, with no need to press update or go to preview mode. It also works perfectly with or without Gutenberg.

With Elementor's unique features, you can create websites that have that certain 'designer touch'. Among our page builder features are: Box Shadows, Background Overlays, Hover Effects, Headline Effects, Animations, Shape Dividers, Gradient Backgrounds and much more.

Choose from 100+ of beautiful full page WordPress templates and customize them to make them your own. You can also build your page by choosing from 300+ Blocks.

Blocks are pre-designed section templates that can be easily combined into any page. Blocks include a variety of categories: services, testimonials, call to action and more. Save and reuse Elementor templates on different pages, or export them to a different website with a click.

Elementor Page Builder comes with an exclusive toolset, that lets you create truly a responsive website in a whole new and visual way. From different font size, padding and margin per device, to reverse column ordering, this is the most powerful mobile page builder for creating perfect responsive websites.

Our page builder includes undo and redo for any action you make. Click on Ctrl / Cmd + Z, or browse through the complete list of actions. Want to go back ever further? Switch to Revisions to view a complete list of all earlier saved versions of the page.

Design your entire page in the page builder. No header, no footer, just Elementor. This is perfect for landing pages and coming soon pages. Canvas works on any theme, and lets you get rid of the header area so you get a blank template to work on.

Need to get your site offline for maintenance? Use Elementor page builder's built in Maintenance Mode & Coming Soon feature to show your visitors an under construction / coming soon page.

Elementor Pro vastly improves your design workflow and lets you design faster and better than ever. With Elementor Pro, everything is done visually and without code.

Making changes to your theme shouldn't be so hard. Endless coding, dealing with developers, switching themes. The Theme Builder in Elementor Pro turns the entire process of creating WordPress websites 100% visual including your site's header, footer, single post and archive page design.

There are many other features to help you build better websites:

Visual and intuitive form builder

Marketing automation and CRM integrations

Custom fonts

Role manager

Blog post layout widget

Image & video sliders

WooCommerce

Global widgets

Custom CSS

Animated headlines

And much more.

Join the elite web professionals who enjoy Elementor Pro!

We packed 28 of the most useful widgets into our page builder. True, that's way more than we had to offer, but we wanted to spare no widget from you, so you can reach the top of your design capabilities.

标题. 加入显眼的标题

图片. 控制图片的尺寸、透明度和其他设定。

Text Editor. A WYSIWYG text editor, just like the WordPress editor.

视频. 在页面中插入Youtube / Vimeo视频。

按钮. 决定按钮的每一部分的设计。

Image Box. A box that includes image, headline and text.

Testimonials. Customer testimonials that show social proof.

Icon. Place one or more of 600+ icons available.

Icon Box. Works the same as the image box, only with icons.

Social Icons. Icons to your social pages like Facebook / Twitter.

Image Gallery. Displays your images in an aligned grid.

Image Carousel. A rotating carousel or slider of chosen images.

Icon List. A bullet list with any chosen icon and text.

Counter. Show stats and numbers in an escalating manner.

Progress Bar. Include an escalating progress bar.

Tabs. Vertical or horizontal tabs that display different pieces of content.

Accordion. A collapsable display of content.

Toggle. Like Accordion, for FAQ pages.

警告. 一个上色的警告框用以引起访客的注意

HTML. 在页面嵌入代码

简码. 轻易地把简码嵌入任何页面中。

Menu Anchor. Link any menu to this anchor.

侧边栏。 在页面中添加任何侧边栏。

Google 地图. 在页面嵌入地图

SoundCloud. Add audio bits from SoundCloud.

分割线. 一条把页面中不同元素给分开来的线

Spacer. A space that divides the various elements.

Columns. Create inner columns within the column.

And counting…

We've integrated RTL and multi language support within the framework of our page builder, so you get a translated panel out of the box, as well as RTL typography support, and developer options to add even more languages.

Elementor page builder is free and open source. It's the perfect page builder plugin to be extended and integrated further. It was created and developed with the developer in mind, and we have already seen some truly remarkable addons already developed.
To help you get started and learn just how to integrate with Elementor, we have created the Official Elementor Developer Resources and the Code Reference.
那了上述的介绍,还是看看动图比较好能接受效果
Drag & Drop. Our instant drag & drop lets you easily place every element anywhere on the page.
Visual Resize Control. Customize the various elements of the page. Resizing images, changing column sizes and much more.
Truly Live Edit. Changes on the page are displayed in realtime. No need to press update or preview.
Template Library. Save your pages or sections as templates, so you can easily reuse them again, or choose one of our beautiful pre-designed templates.
Responsive Design. Create custom settings for desktop, tablet & mobile by switching between devices.
Revision History. Switch between earlier versions of your page design, so your design process is backed up, every step of the way.
Shape Divider. Choose from a wide array of shape dividers and separate your sections in endless ways, that until now were simply not possible.
后台安装ok后启用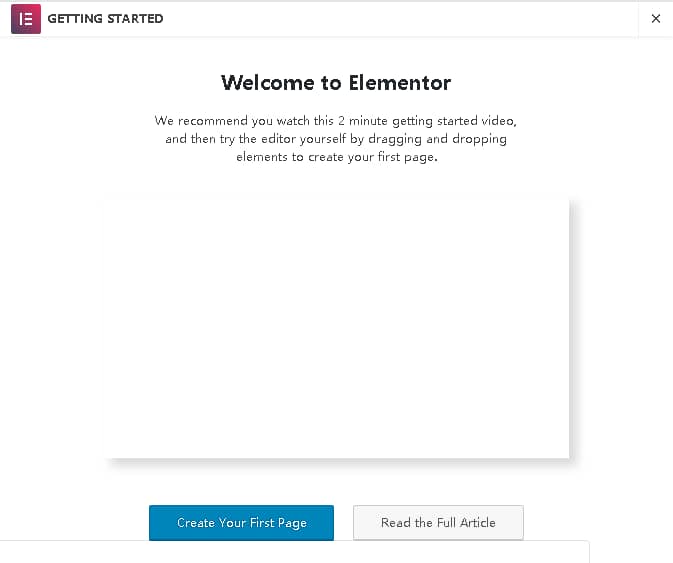 开始创建之旅
创建页面上面会多一个使用elementor编辑
点击进入即可
这时有了中文就十分方便
右侧的+号选择布局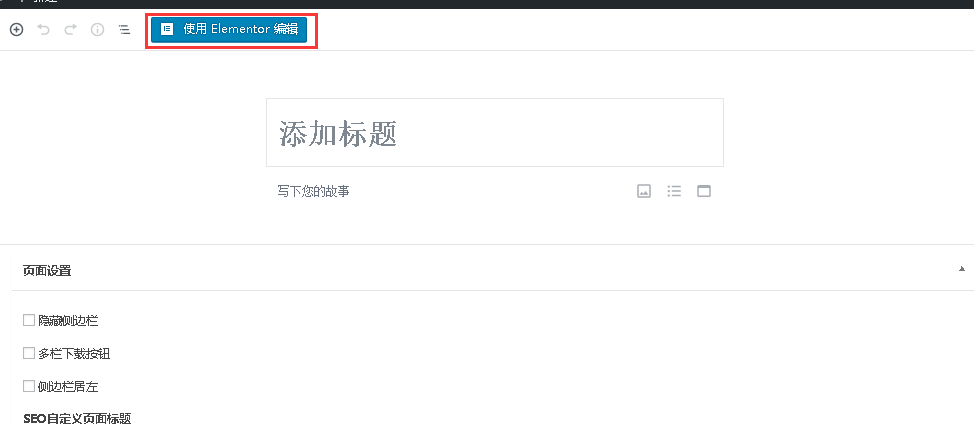 你也可以添加模版
不过留了一些基础的模版
其他的需要升级到Pro版本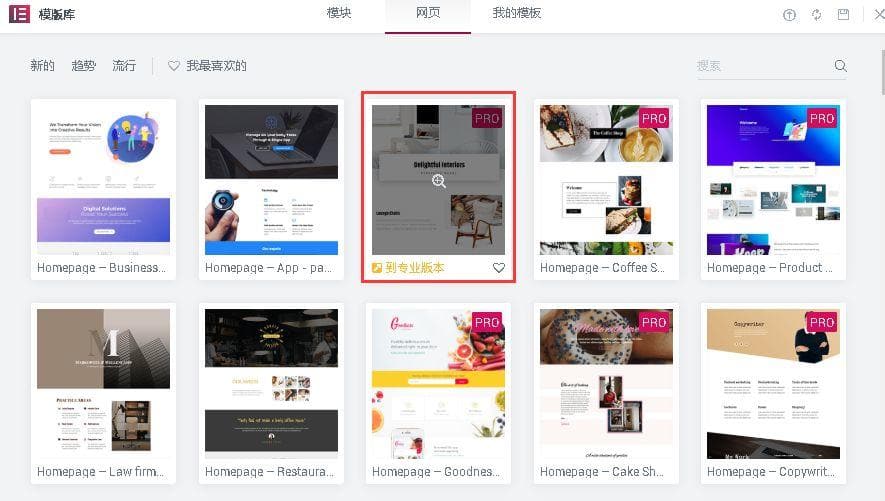 Pro费用其实也还好
就是要注意下是一年的费用($49,$99,$199)
随意选择的一个模版载入的
红框那增加块啥的,可改性很强啊
有需要的朋友阔以试试看
生成的页面可查看,已删除该页面。
此文就BB到这了
引用了不少官方的英文
搬砖后面也没说到啥
见谅
版权声明:
作者:Jensfrank
链接:https://moreopen.cc/391.html
来源:MOREOPEN
文章版权归作者所有,未经允许请勿转载。
THE END